Equipment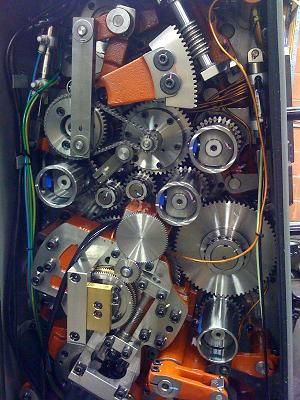 We utilize the most current technology in our industry. Our state-of-the-art equipment allows us to provide our clients with high-quality products on time and on budget.
It should go without saying that our equipment wouldn't make much of a difference if we didn't have equally adept manpower behind it. At National Lithograph, our pressmen are skilled veterans and true industry professionals. Like any good tradesmen, supply them with the right tools and you've got a winning combination.
While our larger press equipment can handle projects of virtually any size, we also employ smaller equipment options for the less demanding, but equally important, smaller jobs. Choosing the right equipment for each task is not only more efficient, but is also more cost effective - a savings which we pass on to our clients.
We realize that most people could care less about what model of press or cutting machine we use, so long as they receive what they ordered. Still, we can't help being proud of our toys. Once you see how great they make you look, we hope you'll be proud of them, too.

Komori Lithrone 28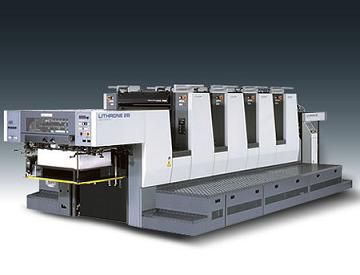 Renowned in 54 countries as the world standard for sheetfed offset presses, the Komori Lithrone 28 incorporates the very latest printing technologies. This press is positioned from the user's perspective as a strategic machine capable of handling a wide range of high-quality work, including multicolor jobs with five or more colors and high added value work.
To shorten makereadies through automation, Komori developed automated presets and cut plate-changing time by introducing APC to the printing industry. The KHS system further expedites press setup with one-shot register adjustment and color matching, which also standardizes the print production process and significantly raises production efficiency. Komori's engineering and electronics know-how has always focused on raising overall productivity.
Lithrone presses are designed and built for high productivity and high print quality. Consistent, stable sheet feeding and delivery are critical to this mission. Komori has spared no effort to ensure that feeder and delivery units perform reliably and predictably in sustained high-speed operation and still maintain the highest standard of print quality.
Komori machines are renowned for print quality without compromise. The Lithrone's printing units are engineered with micron-order precision. Press rigidity and stable high-speed operation provide the foundation for application of the PDC-S SpectroDensitometer. This technology maintains print quality through digital color management and for integrated print quality control via the PQC system. The result is unrivaled image reproduction.
The superb performance of Lithrone presses extends to more than print quality. Komori coaters meet user needs by applying a variety of coatings, including gold and silver, and also offer flexible configuration. These units are designed and built to ensure quick startup and prevent sheet damage during printing.
For print quality and productivity, the Komori Lithrone has no rival.