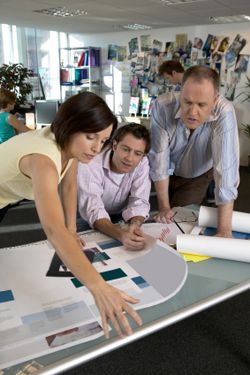 We foster a climate and culture of "can-do" at National Lithograph. We love what we do, and the passion we have for our work enables us to take ownership of our clients' projects. We constantly strive to deliver the highest-quality products and customer service possible. Although we're proud of our products, services, and technology, nothing matches the pride we have in our staff. You see, we learned long ago that we're really in the business of building relationships.
Our team of professionals aren't afraid of a challenge. We thrive on it. From tight turnarounds to detailed handwork to complex variable data projects, we bring our creative problem solving skills to bear.
That kind of confidence and success is only possible by building a team of highly skilled experts in the printing industry and related disciplines committed and accountable to our clients' success. We hire carefully, train continually and then support our employees completely. Our employee turnover is very low, and longevity is the norm.
In working with us, you'll find that our company is not overly regimented. Everyone understands their role but is willing to help out wherever needed to see a job through. You'll never hear a member of our staff say, "that's not my job." Whether it's Customer Service or Production, it takes everyone we have to make our clients look their best.
Our entire staff of trade professionals is eager to collaborate with you on your next project. There is simply no greater satisfaction for us than delivering a finished product that helps a client reach their goals and objectives. We are committed to providing high-end service and extraordinary results for our clients, and as you work with us in the future, we're confident that you'll find this to be true.
To learn more about our approach to customer service, follow the provided links for more information.